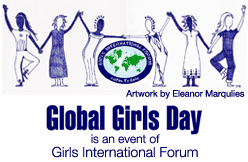 Girls, ages 12 to 18, from around Minnesota and western Wisconsin are invited to register and participate in Global Girls Day, Saturday, June 23, 2007, from 8:30 a.m. to 5:00 p.m.


Global Girls Day will be held at Macalester College, 1600 Grand Avenue, St. Paul, Minnesota. (Click HERE for directions.)


The goal of Global Girls Day is to encourage girls to improve their lives by taking leadership roles in their home communities and around the world. Participants will develop specific tactics to tackle the issues that concern them the most. They will form support networks with other girls working on a similar issue in their communities.


On June 23rd, girls will have the chance to focus on a specific global issue facing girls and women. In the morning session, they will learn more about an issue that they choose. In the afternoon, each girl will be on a team that creates an Action Project that proposes a solution to this problem.



Global Girls Day Schedule
(Click HERE)